A warpgate is a transportation system in Priston Tale. By using warpgates, players are able to warp through a total of 9 warp locations instantly.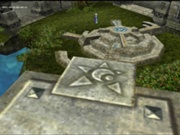 The 2 basic warp locations are in Pillai and Ricarten. Warp from Ricarten to Pilai or wise versal is free and you can warp without having wings.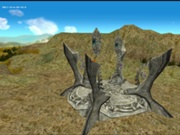 HOW TO USE A WARP
GATE
 : There are six wing items of different colors. Players are only able to move to the region defined by each of the Wings .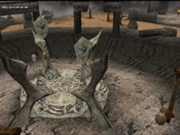 Wing items are not a temporary item. Once players acquire a Wing item, they will permanently be able to use Warpgates by paying fees. Wing items can be seen in players's quest items inventory.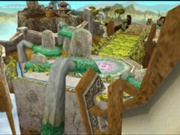 1. Visit the Warpgate NPC Located near Ricarten warpgate, and then ask him for the items he needed.
2. Get the items needed by hunting, trading, begging or whatever you can do to get it.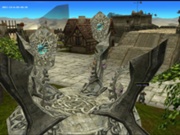 3. After acquiring the items, visit the Warpgate NPC again to receive the wing items.
Usage & Acquisition of wing items:
Level
Region
1st
Bamboo Forest
Land of Dusk
2nd
Runien Village
3rd
Navisko Town
4th
Forbidden Land
( Req. level 55 )
5th
Eura Village
( Req. level 90)
6th
Land of Chaos
( Req. level 95 )
Level
Required Items / Money
Warpgate Fee
1st
Hopy, Hobgoblin Crystal + 3,000k
110 Gold
2nd
Hobgoblin Crystal, Decoy Crystal + 5,000k
330 Gold
3rd
Decoy Crystal, Bargon Crystal + 10,000k
550 Gold
4th
Headcutter Crystal, Figon Crystal + 20,000k
1,100 Gold
5th
Figon Crystal, Kinghopy Crystal + 30,000k
2,200 Gold
6th
Kinghopy Crystal, Hulk Crystal + 40,000k
4,400 Gold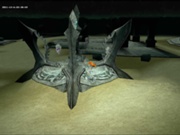 .
Notice: You can not store your Wings in the warehouse, share them amongst characters, or trade them to others. Please make sure that the character which will use the wing item has the items needed.
4. After acquiring the Extreme Wing (Level 6), players will be able to teleport to all the nine Warpgates in the Priston continent if they have the required level.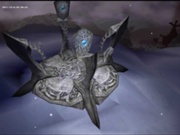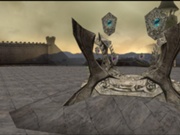 If you are a member of the Clan that owns bless castle, you can warp directly to bl